FREE Active Trim for a limited time. The first and only GPS-based trim system.
Published on: 08/05/2017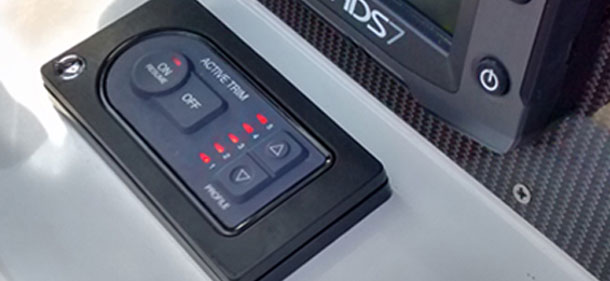 The highly innovative and intuitive Active Trim system from Mercury Marine increases fuel economy and makes boating easier and more enjoyable by providing instant and effortless automatic trim for compatible outboards and sterndrives. As the boat accelerates, Active Trim automatically trims the engine out; as the boat decelerates, it trims the engine in. No advanced knowledge of "how to trim an engine" is necessary!
The key to active trim is its integrated and patented GPS-based control system, which adjusts trim in accordance with boat speed and engine rpm. Active Trim has delivered fuel savings of 14% to 54% over engines fully trimmed down in manual mode.
Active Trim is compatible with all Mariner FourStroke outboards from 40 to 400hp in single through quad engine installations, SmartCraft-capable Mariner TwoStroke outboards and SmartCraft-capable gas and diesel sterndrive engines.
Now FREE with every 80hp – 150hp Mariner Outboard Engine.
Offer ends July 31st 2017 visit your local dealer for more information.
Find a mariner outboard dealer
Find your nearest Mariner Outboard Dealer.
Service & Support
Barrus is committed to the highest standards of customer service.
Contact Us
Marketing Services Department,
E.P. Barrus Ltd, 
Glen Way,
Launton Road
Bicester, Oxfordshire
OX26 4UR        
Tel: 01869 363636
Fax: 08714 298109
Email: customerservices@barrus.co.uk        
VAT Number: GB226662558
Company Registration Number: 148476