Barrus wins the British Marine Trades Association 2018 Business of the Year Award!
Published on: 16/01/2018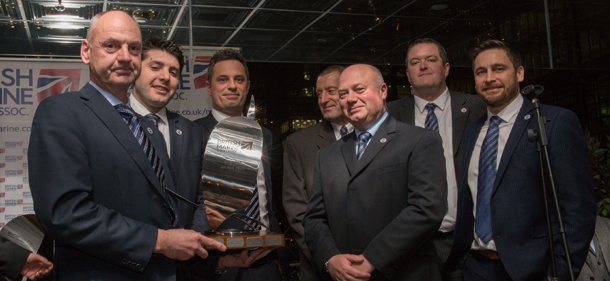 Held on Wednesday 10th January, The 2018 British Marine Trades Association Awards dinner crowned a highly successful first day at the London Boat Show 2018 for many and provided a welcome opportunity to focus on the achievements of leading personalities and companies in the industry.
The highlight of the evening was the host of awards up for grabs. British Marine group associations, British Marine Trades Association and British Marine Leisure Boating had a combined five awards on offer, with industry publication, Boating Business, issuing another five on the night.
E.P.Barrus Limited are delighted to have won the accolade of being the British Marine Trades association 2018 Business of the Year and some of the Marine sales teams were present at the event to accept their award.
Speaking immediately after the event, British Marine Trades Association Chairman, Paul Martin, stated: "It was great to recognise E P Barrus as our Business of the Year – both in light of the company's noteworthy 100th anniversary and its excellent level of service to retail and trade."
"This award has been won not only by our excellent Marine sales teams but also by our internal teams who support our marine businesses. A fantastic recognition and a wonderful start to the new year," commented Robert Muir, Managing Director, E. P. Barrus Ltd.
Contact Us
Marketing Services Department,
E.P. Barrus Ltd, 
Glen Way,
Launton Road
Bicester, Oxfordshire
OX26 4UR        
Tel: 01869 363636
Fax: 08714 298109
Email: customerservices@barrus.co.uk        
VAT Number: GB226662558
Company Registration Number: 148476