The GTM Professional range of compact and powerful wood chippers are designed to offer a portable option to chipping branches and crops – perfect for tree care, landscaping, forestry and garden maintenance.
Efficient, effective and safe to operate due to their chipping system – a rotor with 2 blades, one counter blade and ejection through a large discharge. The system pulls branches up to 12cm thick into the machine, chips them and ejects clean cut wood chips time after time. The chipped material is ideal to use as mulch or compost.
For more information on GTM wood chippers and treecare please click on the button below.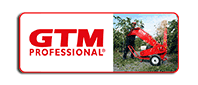 Contact Us
Marketing Services Department,
E.P. Barrus Ltd, 
Glen Way,
Launton Road
Bicester, Oxfordshire
OX26 4UR        
Tel: 01869 363636

Email: customerservices@barrus.co.uk        
VAT Number: GB226662558
Company Registration Number: 148476