Parts Supply
---
Barrus is committed to providing total customer satisfaction; this has led to the development of highly efficient service and support systems for the dealer network. The investment in spare parts ensures that customers' demands for prompt delivery of replacement parts are met. Barrus's own fleet of delivery trucks ensures that products are delivered safely and on time.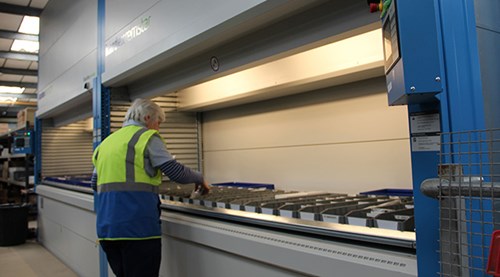 Spare Parts
Barrus's electronic parts ordering portal, DIAL 247, (Dealer Immediate Access Link), is a state-of-the-art EDI system that is available to authorised dealers through www.dial247.co.uk. DIAL has been designed as a stock checking and ordering portal combined with an electronic parts catalogue with over 300,000 part numbers available through the system. It offers instant access to 'live' information including stock availability, order entry, back-order status and order history. To manage the 60,000 lines Barrus carries as spare parts inventory, the company has invested in the latest automated high bay industrial storage and handling systems from Kardex. Eight Kardex Shuttles are capable of carrying over 22,000 lines with a combined capacity of around 17 tonnes. The Optimiza inventory management software is an invaluable tool in measuring projected availability, particularly during the peak season, enabling a high percentage of customer orders to be fulfilled from stock.

Customers' orders are processed within 20 minutes and parts orders received by 4 pm will be despatched on the same day for delivery the next day. For larger customers a dedicated overnight secure box system is in place, stretching the order deadline to 4:30 pm with delivery before 8 am the next day.   This effective parts supply service is a key feature of the Barrus operation with a dedicated Spare Parts Department supporting a 3000 strong dealer network across all divisions.
Parts and accessories can also be ordered from Attwood specialising in Marine Parts and Arnold specialising in Lawn and Garden Parts.
Contact Us
Marketing Services Department,
E.P. Barrus Ltd, 
Glen Way,
Launton Road
Bicester, Oxfordshire
OX26 4UR        
Tel: 01869 363636

Email: customerservices@barrus.co.uk        
VAT Number: GB226662558
Company Registration Number: 148476