Training
---
Effective training is a vital part of Barrus's business to maintain high standards of service support across our dealer networks.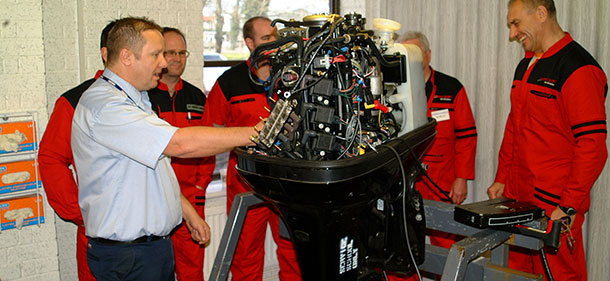 The company offers a comprehensive range of courses for engineers and technicians  which are available to all dealers  and specialist partners.  There is a purpose-built Training School at the Barrus headquarters in Bicester which is supported by regional courses throughout the UK and Ireland.
With technology improvements being introduced more frequently and particularly the level of electronics involved in engine management increasing rapidly, Barrus training courses are essential to ensure the highest levels of support for end users.
In addition to the Barrus training courses, authorised Marine dealers now have access to 'Mercury University' an on-line training resource.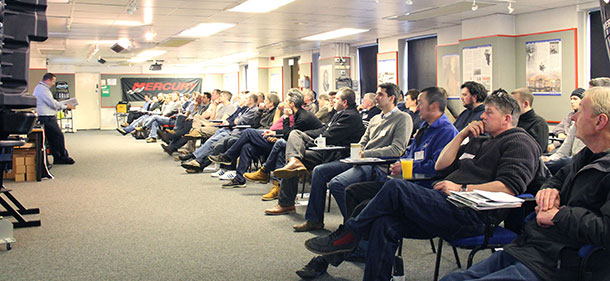 Here's what some of the Barrus dealers have to say about the training courses: 
"Thank you very much for the course and your hospitality. It's  always interesting and always a pleasure."
- Arthur Baldwin, HMS Sultan, MOD. 
"I have been a Barrus dealer for 30 years and attended many training courses. The Barrus courses are enjoyable and educational  - a benchmark for the industry, employing the latest technology and  training methods. "
- Alwyn Rowlands, Dulas Boat & Caravan Company
"The Barrus Marine Training Team is very professional  imparting huge amounts of technical information to the participants who enjoyed both the theory and practical parts of the courses. We at McAleese Marine acknowledge the importance of proper training for our technicians and the benefits to our customers. "  
- John McAleese, John McAleese Marine
"Thank you for an informative two days. it was good to catch up with the other dealers and the Barrus team. I hope the others found it as worthwhile as I did. Johnny and Brynn played their part too. A very important and useful service provided by E P Barrus and very well delivered by a dedicated and professional team."
- Jim Knox, Upper Largo Chandlery.
"Many thanks for the Dealer Recertification course, it was good to get the latest details on all the products and it was good to see everyone at Barrus – please pass on my thanks to all involved"
- Martin Brookes, Seamark Nunn
"Thank you very much for yesterday's course and your hospitality. I always look forward to this course, always very informative and it's nice to meet up with old friends"
- Arthur Baldwin
"Had a great day yesterday on the recertification course down at Bicester with E P Barrus. What a fantastic facility and great hospitality from Tim Bennett and Jonathan Hay. Two certificates in one day and so much information. These two guys put so much hard work into this course so that the Mariner Mercury/Mercruiser dealers can provide excellent service for our customers engines. Thank you both"
- Alwyn Rowlands, Dulas Boats
Contact Us
Marketing Services Department,
E.P. Barrus Ltd, 
Glen Way,
Launton Road
Bicester, Oxfordshire
OX26 4UR        
Tel: 01869 363636

Email: customerservices@barrus.co.uk        
VAT Number: GB226662558
Company Registration Number: 148476