The Mantis Tiller is designed for performance and power. 40 years of engineering innovation. Trusted by over 2 million gardeners. It's the best-selling small tiller ever.
Mantis introduced the first small tiller 40 hears ago and remains at the forefront in providing big results from a mini-tiller. The new generation of Mantis tiller feature smart digging technology which will help grow great gardens and keep lawns and backyards looking their best.
Small but powerful, the Mantis tiller will surprise you with its performance. Thanks to its unique curved tines, it defies roots and stones, reduces clods and turns the soil to create great planting conditions.
Fast and easy to use
With the Mantis tiller you will save a lot of time in the garden. Plus, it's easy to start and with all of the controls at your fingertips, is easy to use!

Easy to handle and Powerful
That's the magic of a Mantis! A compact size that works in the tightest spaces, a light weight that is easy on your arms and back and a 40-year reputation for quality and efficiency.

Versatile
A Mantis tiller is several tools in one: it digs, hoes and weeds. With the optional attachments, it also breaks up the ground, digs furrows and holes, helps takes care of the lawn, edges borders and paths.

Designed to last
A Mantis is a long-term investment.
For more information on Mantis machines please click on the button below.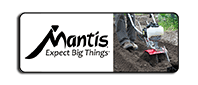 Contact Us
Marketing Services Department,
E.P. Barrus Ltd, 
Glen Way,
Launton Road
Bicester, Oxfordshire
OX26 4UR        
Tel: 01869 363636

Email: customerservices@barrus.co.uk        
VAT Number: GB226662558
Company Registration Number: 148476