Mercury Seapro Commercial Engines
---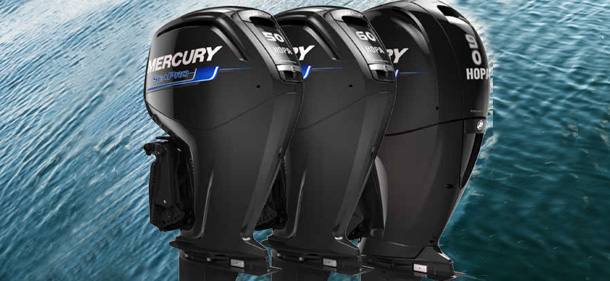 The new, dedicated range of Mercury SeaPro commercial FourStroke outboard engines, offer a high displacement, low horsepower solution for the commercial market. The range includes 2.1 litre, 50hp and 60hp models and a 3.0 litre, 90hp option. These engines are designed to provide increased durability and longer life in demanding commercial applications without sacrificing power.
Mercury SeaPro engines, with high displacement and low-weight, deliver the performance required by commercial users and provide three times the engine durability compared to recreational engines. They feature higher durometer upper mounts that help to extend the life of the engine and reduce operational costs.
Mercury's larger Command Thrust gearcase, which creates a bigger footprint in the water and provides more leverage to control the boat is standard on the 50hp, 60hp and 90hp SeaPro models.
These engines deliver the outstanding fuel economy that is inherent to four-stroke technology and accurate digital information is presented in a SC1000 SmartCraft gauge, fitted as standard, for reliable information at a glance.
The SeaPro models feature extended warranty up to 2000 hours compared to standard engines and a pictorial Owner's Manual make simple service and maintenance even easier by providing step-by-step instructions. The SeaPro engines have the benefit of Mercury's industry-leading MercAlloy XK360 engine corrosion formula which is an extremely low copper content alloy and offers total engine protection and trouble-free operation in the harshest of conditions.
For more information, please download the attached flyer:-
Find a Mercury dealer near you
 Find your nearest Mercury dealer
Service & Support
Barrus is committed to the highest standards of customer service.
Contact Us
Marketing Services Department,
E.P. Barrus Ltd, 
Glen Way,
Launton Road
Bicester, Oxfordshire
OX26 4UR        
Tel: 01869 363636
Fax: 08714 298109
Email: customerservices@barrus.co.uk        
VAT Number: GB226662558
Company Registration Number: 148476