Barrus powers ahead with a new Division and dedicated Sales Manager
Published on: 12/05/2022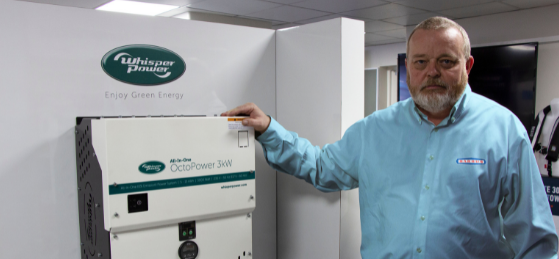 Barrus powers ahead with a new Division and dedicated Sales Manager
Following the appointment as the exclusive national distributor for WhisperPower in the UK in September 2021, Barrus announces the next steps in the development and focus of this business within the company's multi-divisional infrastructure.
A new, Power Products Sales Division has been created to support the growth of the WhisperPower brand and the appointment of a dedicated Sales Manager, Lance Lewis.
With a career spanning 35-years in the power industry, Lance has experience in sales and technical solutions for OEMs, dealers and end-users for engines, generators and battery-based power supplies and energy storage both in the UK and export markets.
In this new role, Lance will be working with existing WhisperPower dealers and signing up new Power Centres across the UK in the Marine, Mobile and Off-grid sectors. "I am excited to take up the challenge of establishing the new Power Products Division and selling the WhisperPower product range for off-grid power into the Mobile, Marine and Industrial markets," explained Lance. " Barrus has established a healthy stock holding in the UK, enabling us to offer fast delivery times despite the current supply chain shortages. This in conjunction with an all-in-one marine portfolio puts us in a strong position as we continue to grow the Whisper Power brand in the UK.
WhisperPower develops, manufactures and supplies smart electrical systems providing ultra-quiet, vibration-free, cost-effective off-grid electrical power from 500 watts to 100 kW. The extensive portfolio includes generators, inverters, battery chargers and hybrid-style power systems.
"The WhisperPower product is innovative, and market-leading in hybrid and zero-emission energy systems, and I am looking forward to introducing low carbon emission solutions to help our customers reach their net-zero carbon goals," continued Lance.
"The WhisperPower brand enables us to embrace the move towards emission-free power solutions and provides us with applications across our existing marine and industrial sectors and opportunities in new markets," commented Ben Allen, General Manager of the Marine Leisure Division at Barrus. "The many years of experience Lance brings from his previous roles in the power industry will enable us to accelerate our activity in this area of the business."
The marine connection also extends to Lance's leisure time. "I like nothing better than cruising on the inland waterways and canals, so even on holiday, I am never too far away from an engine, generator, battery or inverter!"
Contact Us
Marketing Services Department,
E.P. Barrus Ltd, 
Glen Way,
Launton Road
Bicester, Oxfordshire
OX26 4UR        
Tel: 01869 363636
Fax: 08714 298109
Email: customerservices@barrus.co.uk        
VAT Number: GB226662558
Company Registration Number: 148476