Mercury Marine announces new 150 Pro XS outboard
Published on: 16/02/2018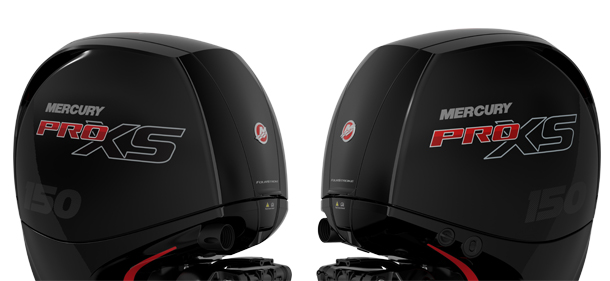 Mercury Marine, the world leader in marine propulsion and technology, is pleased to introduce its new 150 Pro XS outboard at the 2018 Miami International Boat Show. Building on the successful launch of the Mercury 115 Pro XS in 2016, the new Pro XS sets a new standard in the 150hp high-output category and lives up to the legendary Pro XS reputation for superior hole shot, top-end speed, and durability.
Fishing enthusiasts and professionals alike have long considered Mercury's Pro XS outboards to be the most durable, reliable and best-performing outboard engines for competition fishing. This new four-stroke will continue that tradition, but it is also an ideal fit for performance-oriented fibreglass and aluminium boats.
"The new 150 Pro XS is based on one of Mercury's most successful and widely adopted engine platforms, the Mercury 150," said John Buelow, Mercury Marine Vice President of Category Management. "Building on this solid foundation, Mercury engineered the new performance-tuned 150 Pro XS to be the quickest, lightest and most advanced high-output outboard in its class."
The new Mercury Marine 150 Pro XS delivers:
Fastest acceleration – the engine features class-leading 0-20mph heavy-load acceleration. In competitive angling competitions, mere fractions of a second can make a big difference. Faster acceleration provides anglers with an edge, as it allows them to get out in front and avoid getting stuck in the wake of competitors' boats.
Lightest weight – at 207kg, the new 150 Pro XS is 9kgs lighter than the nearest competitor offering.
Largest displacement – at 3.0L, the new 150 Pro XS also boasts the largest displacement in the 150hp category.
Extra torque – Mercury's exclusive Transient Spark Technology optimises spark timing, resulting in additional torque during hole shot.
Higher full-throttle RPM – Increased maximum engine RPM from 5,800 to 6,000 allows for a wider selection of propeller pitches and the ability to dial-in performance for superior hole shot or top speed.
Improved fuel efficiency – The new Mercury 150 Pro XS continues Mercury's mission to produce new technology that is sustainable and more fuel efficient for the consumer.
Performance gearcase – The new 150 Pro XS features a 2.08:1 gear ratio that delivers more torque to the prop shaft for improved acceleration. In addition to the standard water pickups on the side of the gearcase, this engine also features four extra water pickups on the nose of the gearcase torpedo. This provides greater flexibility to mount the engine higher, install a jack plate, or trim the engine more aggressively while running, allowing boat owners to optimise performance without sacrificing water flow for engine cooling.
Optimised mount package – Performance-tuned engine mounts provide for improved high-speed handling characteristics.
Superior charging output and battery management – The new 150 Pro XS features a class-leading charging output of 60 amps as well as idle charge battery management capability, which protects consumers from draining batteries while operating multiple electronic devices and trolling.
Smooth performance – The new 150 Pro XS boasts significantly lower seat and helm vibration levels compared to leading competitors in the 150hp high-output segment.
Additionally, the new 150 Pro XS provides superior protection against corrosion. Mercury's proprietary ultra-low copper alloys make this outboard better able to withstand the elements, including the rigours of saltwater operation. Mercury provides an industry-leading standard three-year warranty against damage due to corrosion
Contact Us
Marketing Services Department,
E.P. Barrus Ltd, 
Glen Way,
Launton Road
Bicester, Oxfordshire
OX26 4UR        
Tel: 01869 363636
Fax: 08714 298109
Email: customerservices@barrus.co.uk        
VAT Number: GB226662558
Company Registration Number: 148476