Quicksilver Activ 605 Open wins Boat of the Year 2017 Award
Published on: 12/12/2017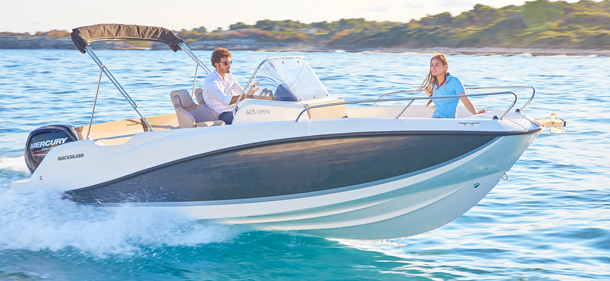 Many exceptional new boats varying in style and size ran for the Boat of the Year award, which makes the success of the Activ 605 Open all the more impressive.
The boat of the year awards is organised by Moteur Boat Magazine, France's leading nautical magazine. A total of 15 out of 50 new motor boats made it to the finals with the finalists taking part in extensive testing over two days by both boating enthusiasts and marine experts.
The Activ 605 Open won the overall boat of the year award for its value, ease of use, safety onboard, and versatility making it ideal for leisurely days out with family and friends, and fishing trips.
The 605 will be showcased at London Boat Show 10 – 14 January at ExCel London on the Quicksilver Stand LE170.
More information about the Activ 605 Open can be found on www.quicksilver-boats.com
More information about all the finalists: http://www.moteurboat.com/actualite/infos/voici-les-finalistes-.html
Contact Us
Marketing Services Department,
E.P. Barrus Ltd, 
Glen Way,
Launton Road
Bicester, Oxfordshire
OX26 4UR        
Tel: 01869 363636
Fax: 08714 298109
Email: customerservices@barrus.co.uk        
VAT Number: GB226662558
Company Registration Number: 148476