Electric Vehicles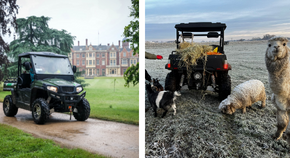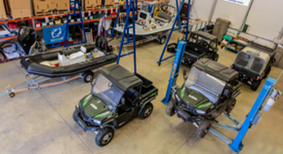 Barrus has introduced the all-new HiSun lithium-ion powered electric UTVs into the UK, a range of four innovative models designed to raise the bar.
The four power options are the HiSun 5 kW, 7.5 kW, 15 kW and a 4-seater 15 kW. All are designed to work just as hard, if not harder, than traditional fuel-powered machines.
HiSun UTVs are true multi-functional vehicles. Featuring a winch, tow hitch and cargo bed they have the versatility to recover, carry equipment and tow powered machinery.
The move to electric UTVs offers many benefits over petrol powered machines. There is no compromise on power with these latest lithium-ion UTVs providing all the power needed for use in challenging off-road conditions. They are free from harmful carbon emissions which supports the shift to a virtually zero-carbon economy in the drive to tackle climate change and reduce global warming.
Choosing electric power offers huge savings in fuel costs with an overnight charge costing around £1*. There is also the bonus of no road tax as electric UTVs can be used both on and off-road. With no engine and fewer parts to service, electric UTVs are usually cheaper to service and maintain.
The quiet electric motor is a key attribute making these machines ideal for driving near animals or in areas where noise needs to be kept to a minimum. An electric UTV has no gearbox which means that acceleration is smoother making for a more comfortable ride.
Barrus has expanded its engineering and production facilities with the introduction of a brand new UTV and ATV assembly centre. 
*Figures quoted are intended as a guide only. Cost/mileage would be dependent on usage and conditions.
Contact Us
Marketing Services Department,
E.P. Barrus Ltd, 
Glen Way,
Launton Road
Bicester, Oxfordshire
OX26 4UR        
Tel: 01869 363636

Email: customerservices@barrus.co.uk        
VAT Number: GB226662558
Company Registration Number: 148476