Marine Hybrid Propulsion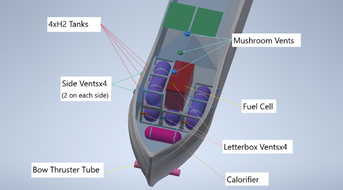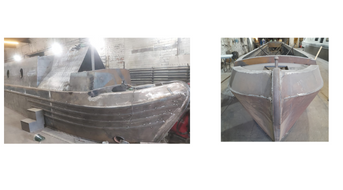 Barrus has partnered with Bramble Energy on a public sector funded project. The aim of the project is to deliver a hydrogen-powered hybrid narrowboat and use it as a test vessel to understand assurgent hydrogen technologies.​
​This will give Barrus an opportunity to understand the limitations and potential applications of hydrogen within the marine and industrial sectors. As well as providing a mechanism to collaborate with the key players within the world of hydrogen Power. ​
​The vessel currently in build is a 57ft narrowboat, that will belong to Barrus once the project is complete and serve as a demonstrator for Barrus products. ​
​The Vessel will be driven by an experimental 15KW motor which will hopefully become a part of the company's Shire engine range. It will be powered by a hydrogen-electric series hybrid powertrain consisting of a 22Kwh battery system (Whisper Power) and a 10KW hydrogen fuel cell. Charging for the system will also be subsidised by 12 solar panels situated on the roof of the vessel.

​Founded in 2016 Bramble Energy is a spin-out from UCL and Imperial College. Bramble Energy has patented passivation layer coatings which allow fuel cell membranes to be integrated within printed circuit boards (PCBs). This means that Bramble Energy can produce hydrogen fuel cells at a fraction of the cost without needing any new infrastructure.
PROJECT PARTNERS AND SUPPLIERS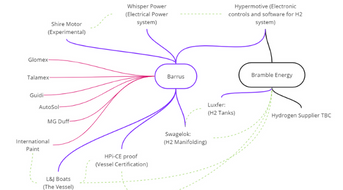 Hypermotive - Electronic controls and software for the H2 system
Luxfer - H2 Tanks
L&J Boats - The vessel
HPi-CE proof - Vessel certification
Swagelok - H2 Manifolding
Shire Motor - Experimental
WhisperPower - Electrical Power Systems
Glomex - Communication Products
Talamex - Marine Products
Guidi - Marine Maintenance Products
Autosol - Boat Care Products
MG Duff - Sacrificial Anodes
International Paints - Boat paints and coatings
​
Contact Us
Marketing Services Department,
E.P. Barrus Ltd, 
Glen Way,
Launton Road
Bicester, Oxfordshire
OX26 4UR        
Tel: 01869 363636
Fax: 08714 298109
Email: customerservices@barrus.co.uk        
VAT Number: GB226662558
Company Registration Number: 148476