Custom Accessories
The Special Products Division also provide a range of Custom Accessories to meet specific operational requirements.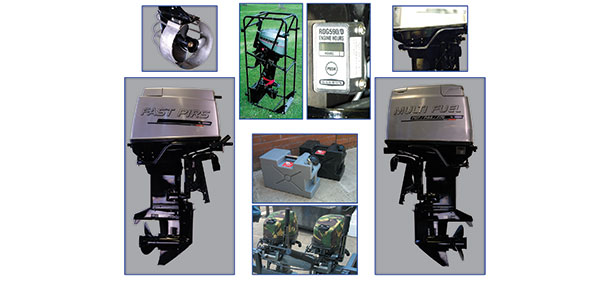 Twin Engine Single Tiller
Twin Mariner outboard motors are controlled with a single tiller arm. This tough, patented, quick release system is designed to provide ease of use. Each outboard may also be used as a single unit.
Engine Lifting Harness
A harness to allow outboards to be hoisted safely during the loading and unloading of vessels.
Outboard Trolley
This rigid steel trolley enables easy transportation of outboards around the workshop. Can transport engines up to 50hp.
Propeller guards
This simple attachment gives effective protection to the propeller and driver, without significant detraction from the engines performance.
Carrying Handles
These tough balanced handles simplify engine installation or removal and enhance portability. They are also designed to offer optimum protection for the engine whilst in transportation.
Engine Transit Frames
This rigid alloy tube frame protects the engine and fuel tanks from damage whilst in transit. The frame has also been designed to be used as a mobile workshop and includes a tool accessory box.
Outboard Cowl Covers
Our outboard cowl covers are designed for the toughest environments and are UV stable, water resistant, soft lined and breathable.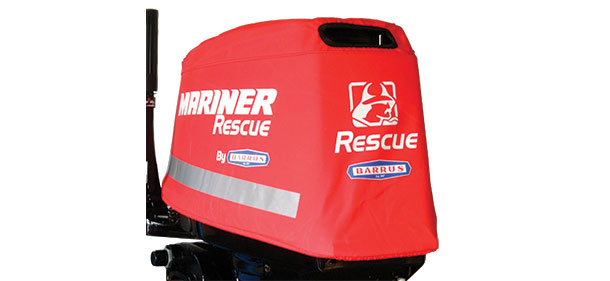 Rotationally Cast Fuel Tanks
These polyethylene rotationally moulded petrol and diesel fuel tanks are exceptionally strong and can be stated easily for optimum storage. The Special Products division also manufacture a low magnetic signature version for mine clearance duties.
Umbilical Tube
The umbilical tube enables the engine to be run from the ship's own water supply. Engines can be run out of water. As a result they can be lowered ready to run and servicing is made much easier.
Waterproof Hours Meters
Engine usage can be monitored in any condition, by keeping constant checks on operational times with this waterproof hour meter.
12 Volt Auxiliary Power Supply
A regulator can be fitted to most engines along with a quick release connection to give a convenient power supply up to 12v.
Rescue and Disaster Relief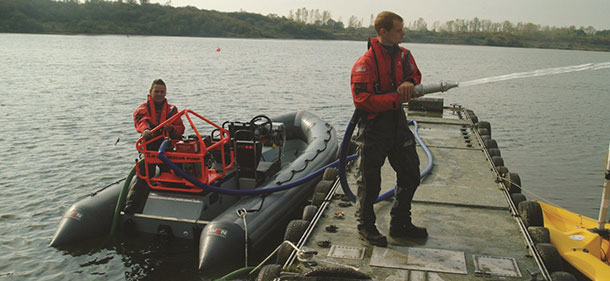 Air Liftable Pump
Used by H.M Coastguard search and rescue helicopters is a 2" trash pump designed with a lightweight, air-portable frame that can be used for salvage, fire fighting and general pumping, the pump weighs just 48kg and has a maximum flow of 820 litres (180 gallons) per minute.
Salt Water Pump
A Yanmar powered Barrus supplied salt-water rescue pump. This 2" pump is ideal for applications on salt water and mild base chemicals (PH 4-9). It has a maximum flow of 865 litres (190 gallons) per minute and weighs just 40kg.
For further information on our range of accessories please contact us here
Contact Us
Marketing Services Department,
E.P. Barrus Ltd, 
Glen Way,
Launton Road
Bicester, Oxfordshire
OX26 4UR        
Tel: 01869 363636

Email: customerservices@barrus.co.uk        
VAT Number: GB226662558
Company Registration Number: 148476